Bleiben Sie auf dem Laufenden.
Latest News & Upcoming Events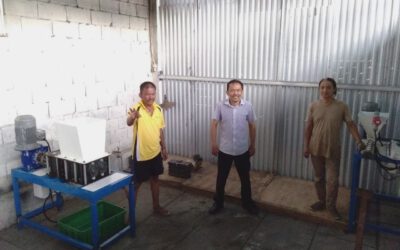 A big moment since we decided to start our project two years ago! Wish us and the team of Marlon Kamagi the best of luck that the machine will soon work as expected and produce the first plastic bricks! This machine is sponsored by OceanHero, the internet search...
Previous and upcoming Events
Reception and Mounting of the first Plastic Recycling Pilot Plant in Manado with support of Ocean Hero and CELLS
Manado, Sulawesi, Indonesia.
Series of Cleanups in Siladen with support of Ocean Hero
Siladen Island, Bunaken Marine Park, Sulawesi, Indonesia.
Winterthur Bacheggli "Zero Waste" Marathon
Cancelled because of Swiss Covid Protocol 29Oct2020. New date to be defined.
Winterthur, CH.
Yearly Workshop CoreTeam
Oberstalden, CH.
World Clean-Up Day mit Abfalltaucher Schweiz
Vierwaldstättersee, Luzern, Switzerland.
Meeting with / Treffen mit Abfalltaucher Schweiz
Wohlen, CH.
General Meeting / Generalversammlung
Büttikon, CH.
Clean-up with Trash Hero Bunaken
Bunaken Island, Indonesia.